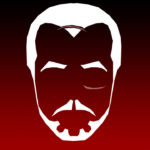 Tell us how you became an illustrator-concept artist
Making a game takes a lot of love and sweat.
As an indie dev, deadlines and crunches sometimes prevent us from taking a step back from tasks. So, we thought we'd sit down with team members and have them share their experience on making LTR, from a more personal perspective.
When I was small, I used to watch my dad painting anytime he got a chance. He'd paint copies of Miro and Picasso whom he admired a lot.
I would spend hours just watching him painting, the process was fascinating for the five-year-old I was.
I knew then I'd be an artist and the game element came when I was fifteen. I started playing the game Bioshock. The artistic direction was very strong, the game had great philosophy elements to it. The backdrop was an amazingly rich underwater world.
I'm quite lucky to make a living from my two passions. I spend a lot of time doing artistic research and experimenting in many ways of adapting my findings to our projects.
I've always been fascinated by sci-fi, so I lucked out working in a video game studio making a game I feel a connection to.
Where else do you use your artistic expression?
In my free time, I illustrate the album jackets for my musician friends.
I dream that one day I would lead a 2D animation project. I already have all the script in my mind, the story would be inspired by "the moon" by the Grimm brothers.
Tell us about your biggest challenge on Light Trail Rush
On LTR, as an illustrator-concept artist, the challenge is to create buildings in line with our retro-futurist concept. It was thrilling but tricky to find ways of integrating the gameplay to the environment.
The artistic team is currently working on a building-ship which is moving, floating in the environment. I created tunnels in the maintenance area and the exciting stuff is that players will use those tunnels in their gameplay, flying in and out of the tunnel.
Something I'm happy with is, as the universe features darker colours, and in 3D, I wanted to give more of an "animated and live" feel. I used 2D advertisement billboards which are drawn and are animated in order to bring more life. They're great for carrying subliminal messages and leave the players the freedom of interpretation of the universe they'll be playing in.
What's your experience of the game LTR
So far, it's been a great work experience. I love playing the Maniability ship. The inspiration for its' design came from Beyond the Void, our first title. In the BTV lore, the Hignos are an ethnic group living in an underwater world. I got the inspiration from them and created a ship design which has a shape of a prawn. It came out nicely. To me, Maniability ship is the best one to play with.
Each ship will have 4 parts which can be customized (ie: engines, wings, cockpits, reactors). I'm doing a lot of research on ship parts, this is my favourite part of the job at the moment. I love the versatility that customization permits. We have 4 ships so far but you can still create cool stuff using different combinations.
Tell us a secret about yourself that your team members don't know
I'm secretly working on a level editor where all my co-workers are represented with avatars (I modelized each members portrait in 3D). The editor is from OverGrowth game.
I wrote a little story where we're going to battle each other. But now the secret is out.